Link to pages for Internal users only

What is Astrophotonics?

Optical fibres developed for telecommunications have narrow cores and work in single mode. They have been the basis of many exciting new devices built into the fibres. In astronomical applications, where light is scarce, fibres are much thicker to allow more light to pass down the fibre to the detector. As a result, astronomical fibres are usually multimode. Research in astrophotonics aims to develop new applications of photonic devices, originally developed for telecommunications, to important applications in astronomy.

The Consortium for Australian Astrophotonics (CAA) has been established as a partnership between SIfA Astrophotonics Group and the Anglo-Australian Observatory to form a world-leader in astrophotonic technology and instrumentation.


---
Follow the link for more information.
---
14 to 16 December 2009, Veterinary Science Conference Centre , University of Sydney


30 November to 2 December, 2009, Women's College, University of Sydney
download poster


22-26 June 2009, Australian National Maritime Museum, Darling Harbour, Sydney


5-8 May 2009, Palm Cove, Queensland


Thursday 23 April, 2009, University of Sydney


Monday 24 November 2008, Darlington Centre, University of Sydney
Talks now available on-line


June 9-13, 2008, The Niels Bohr Institute, University of Copenhagen, Denmark


(Final Announcement and Program) Thursday 29 May 2008, Darlington Centre, University of Sydney


Thursday-Friday 15-16 November 2007, School of Physics, University of Sydney


Current research areas

OH-suppression in optical fibres
98% of the sky background in the near infrared J and H bands arises from very narrow OH lines produced in the upper atmosphere. Suppression of these lines promises a huge gain in sensitivity for IR astronomy. Research in recent years has demonstrated the ability to make non-periodic Bragg gratings within an optical fibre. The transmission profile of these fibres can be designed to suppress OH lines with an effective resolution of at least R = 10,000.

Photonic Lantern
In order to use single mode devices in conjunction with multimode fibres, a remarkable new device called a photonic lantern has been developed in which a multimode fibre goes through a taper and splits into a large number of single mode fibres. Quite apart from exciting new uses in astrophysics, there are possible applications in remote sensing and communications.

Hexabundle Fibres
'Hexabundles' are hexagonally packed fibre bundles that come in two forms: (A) the fused hexabundle where the fibres are squeezed together to remove interstitial holes; (B) the unfused hexabundle where the fibre cores are stuck together securely and the interstitial holes are filled with low-stress glue. Reliable manufacture of hexabundles with over 100 fibres has been demonstrated and we now plan retrofit hexabundles into existing multifibre instruments.

Integrated Photonic Spectrograph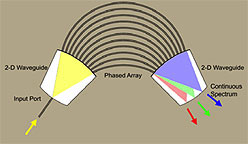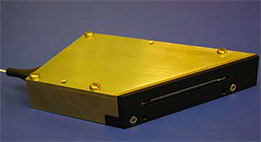 Astronomical telescopes are getting larger which means that the size and cost of their instruments is also growing rapidly. A radical new approach to this problem is made possible by feeding thousands of optical fibres into thousands of individual miniature spectrographs rather than one huge spectrograph. The first of these devices was manufactured in 2007 and is being tested.

Other Devices
Other prospective astrophotonic devices include the photonic array waveguide grating (AWG) and the photonic echelle grating (PEG).


More Information

For more information contact Joss Bland-Hawthorn