Happy New Year 2004
Happy New Year everyone. I can't believe that our website is going into its third year already. All our staffs and students from CPL had a great christmas and new year holiday. But we are gearing up for a series of events coming up within the next few weeks.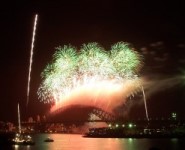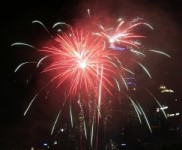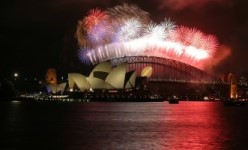 New Year's Eve firework this year at the Sydney Opera House was spectacular.
Firstly, two of our talented students, Darren Engwirda and Cameron Ford, are working already to further their investigations from their previous projects. Darren will be working on vortex motions in complex plasma. And Cameron will be applying his simulation model for cluster stabilty on experimental data. Their results are currently being organised at the moment ready for publications.
Secondly, Dr. Kostya Ostrikov and Dr. Sergey Vladimirov have succeeded in obtaining an ARC grant for their project. So we welcome Kostya to be working with the CPL team.
Thirdly, the CPL team will be attending the 13th Gaseous Electronics Meeting (GEM XIII) between the 1st-5th of February at the Murramarang Resort of Bateman's Bay. Dr. Neil Cramer, Dr. Alex Samarian, Dr. Kostya Ostrikov, William Tsang, Darren Engwirda and I will all be presenting at the meeting. The timetable can be access here. I will be reporting on the event after 5th of February.
Lastly, I am in the process of writing up the thesis for my Ph.D. But don't worry. I will be updating the website as regular as possible.

15/01/2004