Thanking Dinner

Sorry everyone! I have not been updating our research website because I have been away for a little holiday break. Now that I am back and all charged up, I will be updating our wallpapers and news sections in the next few days (and submitting several papers).
Brian and Alex had given me alot of help for my thesis. Last friday, I was privileged enough to invite them and their family to a special VIP dinner at the Fox Golden Century Seafood Restaurant at Fox Studios. From my point of view (and many others), Golden Century is probably the most well-known Chinese restaurant in Sydney especially for their seafood.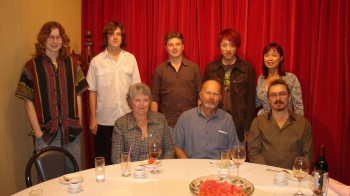 Back row (from left to right): Brian's three sons, Sam, Evan, and Rory, me, and my mum.
Front row (from left to right): Brian's wife, Helen, Brian, and Alex.
This is the list of food we had:
Steamed scallops with ginger and shallots
Peking duck (2 courses)
First: Peking duck with pancakes
Second: San Choy Bow
Pippies with XO Sauce XO
Live King Crab (3 courses)
First: Deep-fried king crab with salt and pepper
Second: King crab with garlic and butter
Third: Braised noodles with crab roe
Crisp skin pigeon
Beef sauteed with sugar snaps in pepper sauce
Sweet and sour pork ribs
Bok Choy sauteed in garlic
Fried rice
Fresh cut fruit platter/Chinese cookies/Chinese dessert
Brian's wife and his three sons were there too. And so was my mum who flew all the way from Hong Kong to attend the special event. The food and wine that night were great. We all had a great time and really enjoyed ourselves.
02/05/2005