Teaching, research and administration
My research is mostly in solar astrophysics (the physics of events at the Sun). Specific research interests include solar flares and solar activity, the statistics of that activity, coronal magnetic fields, solar-terrestrial relations, and Bayesian probability. An up-to-date list of my publications is maintained here.

I have worked on the problem of modelling magnetic fields in the Sun's corona using nonlinear force-free fields.

I currently teach PHYS 1001 Physics 1 (Mechanics) in Semester 1 and in the July intensive, PHYS3x34 Computational Physics in Semester 1, and PHYS 2012 Physics 2B (Quantum) in Semester 2. I also developed and help to teach two Open Learning Environment (OLE) units which run in both semesters: OLET1622 Numbers and Numerics, and OLET1652 How to Estimate Anything.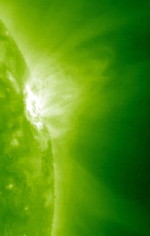 A small sunspot region goes flare mad (Image Credit: NASA/EIT)