Teaching, research and administration
My research is mostly in solar astrophysics (the physics of events at the Sun). Specific research interests include solar flares and solar activity, the statistics of that activity, coronal magnetic fields, solar-terrestrial relations, and Bayesian probability. An up-to-date list of my publications is maintained here, and overheads for a number of past talks are collected here. This page with compiles some of my contributions to popular media.

I have worked on the problem of modelling magnetic fields in the Sun's corona using nonlinear force-free fields.

I currently teach PHYS 1001 Physics 1 (Mechanics) in Semester 1 and in the July intensive, PHYS 2012 Physics 2B (Quantum), and the Senior Physics Computational Physics module. I have a YouTube channel (Mike's PhysFest) with clips of lecture demos and computer simulations from my Junior physics lectures.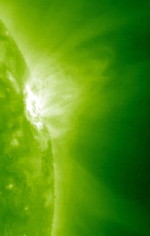 A small sunspot region goes flare mad (Image Credit: NASA/EIT)